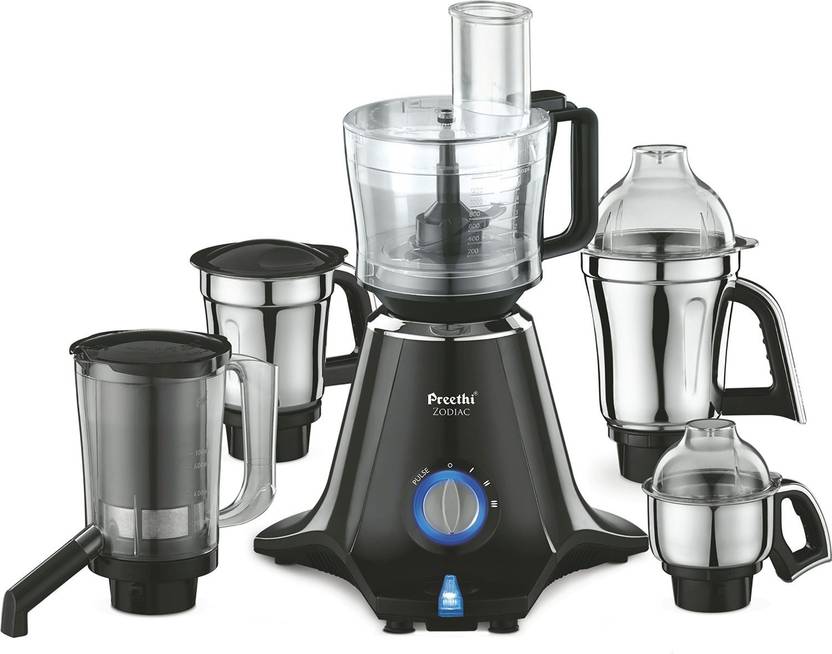 Preethi Zodiac MG-218 750 W Juicer Mixer Grinder Black 5 Jars
Deal Price:
Rs. 6999
Discount: 27% OFF
MRP: Rs. 9635
Sold By: Flipkart
Category: Kitchen housewares
Become A Social Seller & Earn Money By Share Deals
How to get this Deals
Click on the 'Shop now & Get Deals' or 'Buy From flipkart' button, This will redirect you to flipkart's Website
Shop as usual at flipkart
You will get Discount at products details page and cashback will apply at cart or checkout page of flipkart's website.
Similar Offers & Deals
Centrifugal Juicer : Easy and quick juicing, ideal for larger fruits and veggies 750 W : Higher the Wattage, tougher the Juicing/Grinding Suitable for Dry Grinding, Juicing, Blending, Grating, Mincing, Chutney Grinding, Wet Grinding Is your mixer grinder old and rusty? Tired of using it? Then it's time you replaced it with this Preethi Zodiac mixer grinder. Be your Own Masterchef With this mixer grinder, you can knead atta, chop vegetables, grate coconut, slice fruits and extract juice with this multifunctional appliance. High Performance This 750 W mixer grinder, delivers superior performance and ensures robust operations. Sales Package mixer grinder juicer, kneader, chopper, grater, grinder, juicer Power Required 230-250v/50-60h Revolutions 18000 RPM Auto Switch Off No Locking System Yes Material stainless steel, polycorbonate Juicer Type Centrifugal Juicer Non-slip Feet yes Seed Collector yes Dry Grinding Yes Blending Yes Grating Yes Mincing Yes Chutney Grinding Yes Grinding Jar Capacity 1.0 L Liquidizing Jar Capacity 1.5 L Chutney Jar Capacity 0.5 L Juice Extractor Jar Capacity 1 L Weight 8 kg Other Features patented 3 in 1 jar, vega w5 motor, faster cooling motor, master chef+ jar, 750 watts motor