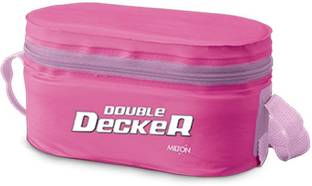 Get upto 60% off on Lunch Boxes
Sold By: Flipkart
Category: Kitchen housewares
Deal Price:
Rs. 266
Discount: 19% OFF
MRP: Rs. 330
Pay Now via Payumoney & Get confirm extra 2% Cashback from ShopperMB & Save your money.
Share Deals with friends
How to get this Deals
Click on the 'Shop now & Get Deals' or 'Buy From flipkart' button, This will redirect you to flipkart's Website
Shop as usual at flipkart
You will get Discount at products details page and cashback will apply at cart or checkout page of flipkart's website.
Similar Offers & Deals
Types of Lunch Boxes Buying food containers and lunch carriers can be a fairly easy job if you know what to look for. The best place to buy these boxes is online websites. You get to choose from multiple types and select a set that meets your requirements. The variety includes: Outdoor lunch boxes - This type usually contains more than just one or two boxes. Like the name suggests, these are mostly used for carrying food outdoor. They are available in sets of three to six containers and can be used to pack more than two dishes. Some sets even come with a tumbler which you can use to carry buttermilk or juice. Smart lunch carriers - This type of carrier is more popular than other types. They are compact and durable. You can use them to store food at home or carry your breakfast and lunch. Mini wonders - These are the boxes that you want if you plan on carrying light lunches. They have a compact design and the space is divided into two or three sections. You can pack your roti, sabji, chutney and snacks all in one box. How to Buy Lunch Boxes Online You can easily buy different lunch boxes by keeping a few things in mind. a.) First, understand for whom are you buying the lunch carriers. If it's for your kid who will be carrying it to school, then select something colorful with a cartoon character on it. Also, kids eat less so they will need a box that's small in size and easy to carry. b.) The next thing to look at is material. These boxes are made of plastic, stainless steel, polypropylene and other food grade materials. It's important that you check to see if the material used is microwave safe and leak proof. Things You Need to Look for in a Lunch Boxes BPA-Free - The lunch box you pick should be safe to store food. You wouldn't want to pack food inside a box that's going to cause anyone harm. So make sure you choose BPA-free lunch boxes. Tupperware and Signoraware have some good-quality, BPA-free lunch boxes, for example. Stay Fresh - Airtight - You don't want your kids to eat stale food for lunch at school, do you? Make sure you pick a lunch box that seals tightly and keeps the food inside fresh for hours. Insulated Lunch Kit - To keep food hot, an insulated lunch kit is what you need to get. With this lunch bag, the food packed will not just stay fresh but it will also stay hot. Take a look at a few insulated lunchboxes from Milton or Maxell. Size - Now this is a tricky thing; the size of the lunch box depends on how much food you pack and what you pack. If you pack both, breakfast and lunch, then go for a bigger lunch box. If you are going to pack just lunch, choose a medium lunch bag. Sections - How many sections should a lunch box have? Again, this depends on what you pack. If you pack chapatis and dal, a lunch box with 2 sections is ideal. If you pack chapati, dal and salad, then go for a lunch box with 3 sections. Easy to Use - Another important thing to consider while buying a lunch box is whether it is easy to use or not. You don't want your little one struggling to open the lunch boxes at school, do you? Pay close attention to the ergonomics and choose an easy-to-open lunch box. Dishwasher Safe - If you have a dishwasher at home, then you need to buy lunch boxes that are dishwasher safe, if not you will have to end up cleaning them. Disposable - Reusable lunch boxes are a great option for you to pack lunch for your kids. However, if you are planning to pack lunch while on a road trip, make sure you pack it in disposable lunch boxes. Lunch Boxes are available in different shapes and sizes. You can buy any set that suits your needs and carry food with you anywhere you go. Eating healthy and nutritious food is essential to stay healthy. So be it sandwiches, pasta or paratha, make sure you are carrying nutritious homemade food every day to avoid eating junk food. By lunch boxes online from top brands like Tupperware , Milton, Cello, Signoraware etc and pack home made food for you and your family.