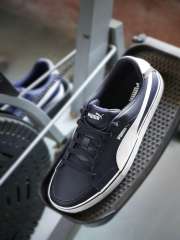 Get upto 40% off on Puma Sports Shoes, Bags & more
Sold By: Myntra
Category: Footwear
Share Deals with friends
How to get this Deals
Click on the 'Shop now & Get Deals' or 'Buy From myntra' button, This will redirect you to myntra's Website
Shop as usual at myntra
You will get Discount at products details page and cashback will apply at cart or checkout page of myntra's website.
Similar Offers & Deals
The women's selection features a dazzling display of sportswear and casual wear. Look awesome during workouts in relaxed-fit capris and a T-shirt, and fashionable trainers. Get ready for the day in a printed sweatshirt worn over pretty shorts and casual shoes. Tote belongings in a funky backpack with compartments for your laptop and other valuables. Young girls can also enjoy what we have to offer in the form of adorable Puma shoes, flip-flops, T-shirts, and tops. Choose a cute striped top in peppy colours to match neutral-toned bottom wear. Finish the look with her choice of footwear and a sleeveless hooded jacket for more style. Add a backpack with cute cartoon graphics and she'll be commanding attention from all her peers! AMAZING DESIGNS FOR AMAZING PEOPLE! The men's range of Puma clothing, shoes, and accessories is equally extensive and fashionable. Stay warm in winter with contemporary padded jackets featuring hints of colour. The trendy designs are a dream to wear with jeans and winter boots but also go well with track pants and sports shoes. Training for performing on the running track or the field? Step into running shoes designed for athletes. Feel agile and flexible with lightweight midsoles, abrasion-resistant outsoles, and cushioned footbeds. Wear them with running shorts and moisture-absorbent T-shirts. For an off-the-field look, we recommend going for a striped polo T-shirt and a pair of distressed jeans. Choose any one of the casual shoes on offer and feel confident with your cool style. The boys' selection of Puma creations is as trendy as the men's. Wrap your little one in a handsome hooded jacket that complements both sports and casual wear. Get him ready for a football match at school in the jersey and shorts of his favourite football team. For casual wear, nothing beats the T-shirts and sweatshirts we feature. Pair them with jeans or cargos for the perfect everyday outfit. Browse Myntra for more fabulous choices and put together outfits your friends will envy. Buy Puma and make a statement that just can't be ignored. Sportswear, casual wear, and trendy accessories are waiting to be worn. Own each look with flair and walk with confidence anywhere you go. With Puma, you can be yourself in style!