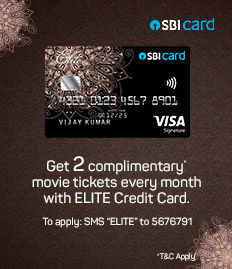 Get 2 free movie tickets per month or INR 500 off whichever is less with SBI Signature/Elite credit card
Sold By: Bookmyshow
Category: Movie
Deal Price:
Rs. 500
Discount: 50% OFF
MRP: Rs. 645
Pay Now via Payumoney & Get Upto 5% Cashback from ShopperMB & Save your money.
Share Deals with friends
How to get this Deals
Click on the 'Shop now & Get Deals' or 'Buy From bookmyshow' button, This will redirect you to bookmyshow's Website
Shop as usual at bookmyshow
You will get Discount at products details page and cashback will apply at cart or checkout page of bookmyshow's website.
Similar Offers & Deals

50% OFF
Movie by Bookmyshow
Get Deals now

0% OFF
Movie by Bookmyshow
Get Deals now

0% OFF
Movie by Bookmyshow
Get Deals now
ABOUT THE OFFER Get 2 free movie tickets per month or INR 500 off whichever is less with SBI Signature/Elite credit card Offer valid on purchase of minimum 2 movie tickets This offer is valid only on the primary card To know more about SBI Card ELITE, please SMS "ELITE" to 5676791 HOW TO AVAIL THE OFFER Go through the regular ticketing flow for selecting the movie, cinema and show of your choice Proceed to payments page Confirm your details by providing your email id & mobile number as this information will be used for confirming your transaction To avail offer, check 'Avail Offers & Discounts' Click on the tab - Credit/ Debit/ Net Banking Click on 'Select Offer' and choose 'SBI Signature/Elite credit card INR 500 off' from the offers drop down list Enter your 16 digit credit card number in the box and click on 'Check' Congratulations! You would have successfully availed your offer You will have to pay the remaining transaction amount using the same card on which you have availed the offer. Your card number will auto populate in the box. To make the payment, enter your name on the card, expiry date and CVV card details