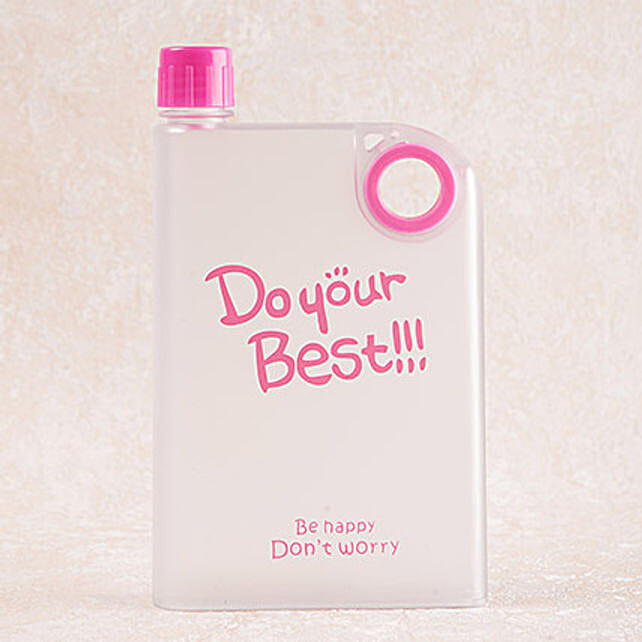 Friendship Day Unusual Gifts Do Your Best Water Bottle Pink
Deal Price:
Rs. 499
MRP: Rs. 499
Sold By: Fnp
Category: Gifts
Pay Now via Payumoney & Get Upto 5% Cashback from ShopperMB & Save your money.
Share Deals with friends
How to get this Deals
Click on the 'Shop now & Get Deals' or 'Buy From fnp' button, This will redirect you to fnp's Website
Shop as usual at fnp
You will get Discount at products details page and cashback will apply at cart or checkout page of fnp's website.
Similar Offers & Deals
A portable water bottle that slips easily into your thin and sleek handbag, laptop bag, or backpack is what you need to stay hydrated this summer! Here is a trendy and cool water bottle in pink color that says "Do Your Best". As a gift for a friend, this would be appreciated. Or simply buy it for yourself and drink water in style in your classroom, meetings, or office. Your Gift Contains: Do Your Best Water Bottle Pink 380ML Height 7X5 Inches Approx. Some people have a strong fascination towards extraordinary and unique things. If your loved ones fall into this special category, it is time to convey your love and affection towards him/her by sending unusual gifts online to him/her. Offer them a quirky blanket, mug, table top and other gift items through our online store. There are people who have a habit of saying simple things in a quirky and different manner. In order to help out these people, Ferns N Petals is offering a wide collection of unusual gifts online that can convey your emotions in an impressive manner. If you have a friend who is a hard core drinker and is not ashamed to accept it, offer him/her a hip flask or beer mug that has quirky dialogues such as "Main Sharaabi Hoon" Our world is full of different types of people who have their unique personalities, traits and characteristics. While there are some who wants simple and ordinary things, there are others who want something creative, unique and extraordinary. If you want to offer something that can arouse the immediate interest of the latter personality, you need to send unusual gifts online through our gifting store